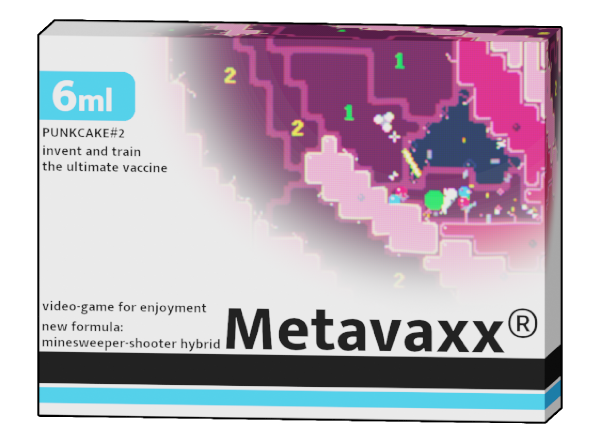 Metavaxx 🔬
A downloadable game for Windows
💉🦠🔬🦠👩‍⚕️
Develop the ultimate vaccine in Metavaxx, the world's first minesweeper shooter!
Train your own new vaccine in body samples, either by shooting down the virus agents hidden in infected cells, or by isolating those cells, only clearing the healthy cells around them. You win when there are only healthy cells OR only infected cells remaining. Your vaccine's progress depends on how many remaining cells of either type you managed to preserve.
This game features:
🔫 tight shooter action
🧩 classic minesweeper thinking
🤔 strategic decision making
👩‍🔬 roguelike gameplay elements
💪 25 different body samples to cure
🧬 20 unique upgrades to choose after each level
🥼 6 laboratories giving you a unique boost for your playthrough
🎲 randomized gameplay for considerable replayability
🎶 chiptune music by the amazing Pentadrangle
📝 name your own vaccine (and the game)
💉🦠🔬🦠👩‍⚕️
Controls:
This game can be played either with keyboard & mouse or with a game controller. We recommend playing with keyboard and mouse.
the arrows, or WASD, or the left stick of a controller, or the D-pad to move around.
the mouse, or the right stick of a controller to aim and shoot.
left-click, left-trigger, or (A) to confirm prompts.
right-click, or (B) to use mines, after having unlocked them.
P pauses the game.
💉🦠🔬🦠👩‍⚕️
Are you press or a content creator?
Come ask us for a key on Twitter, our DMs are open! Just make sure to tell us which game(s) you're interested in, we have a few of different ones!
Also check out our presskit where you'll find more info about us, as well as graphical assets in the downloads, useful for showing off the game or making thumbnails!
We also have a french version of the presskit! 🥐
💉🦠🔬🦠👩‍⚕️

About PUNKCAKE
This game was made by PUNKCAKE Délicieux, a game developping duo making and releasing a new game every month through Patreon and itch.io!
Check out our Patreon subscription for advantageous offers and some more options!
PUNKCAKE Délicieux is made up of lovely humans Benjamin Soulé and Rémy Devaux.
Find us on these platforms:
:: 👉 Patreon
:: 👉 Twitter
:: 👉 Discord
:: 👉 Itch.io
:: 👉 Steam
💉🦠🔬🦠👩‍⚕️

About Pentadrangle
Pentadrangle made the music for Metavaxx! He's also the musician behind the games Cyber shadow, Roof Rage, Spicy Piggy, VoidRun, Lords of Exile and more!
Check out his Bandcamp and follow him on Twitter!
💉🦠🔬🦠👩‍⚕️
1.2f patch log
Fixed a crash caused by a rare pathing issue.
Removed window renaming on choosing a vaxx name for better compatibility.
On vaxx naming, the name now defaults to "Metavaxx" and can be confirmed with 'A' on a gamepad.
Decreased stick sensitivity on gamepad for avoid unwanted firing.
1.2d patch log
fixed a very rare error on collision code
1.2c patch log
fixed a bug where the game would fail to reset after shipping a vaccine not good enough to enter the hall of fame
corrected "ship vaccines" to "ship vaccine"
1.2b patch log
crosshair now always visible in-game when using a gamepad
fixed version compatibility code
fixed a crash on options caused by version compatibility code
1.2 patch log
the Kerixxons laboratory is rebranding: now unlocks the chemical marker from the start!
added Discord Rich Presence
better volume controls in the options
fixed leaderboard breaking if one entry had a price of 0
fixed stretched rendering when screen fx was off
fixed audio glitching out when closing the window
1.1e patch log
FINAL FIX on that save issue, we swear it's working this time 😤
1.1d patch log
unfocusing the game while in-game now pauses the game
the shader effect now applies on the punkcake intro, the window doesn't close and open again after it anymore
fixed save issues around starting a new game
fixed an extremely rare crash on collision code
fixed displayed patch number
1.1c patch log
fixed sample infection cap back to 75%
1.1b patch log
fixed malfunctioning fullscreen switch in the settings
fixed evolutions carry-over after game over
1.1 patch log
in-game escape key will pause instead of leaving
pause is now only available in-game
added a proper [ship vaccines / cancel project] button
reworked ending sequence
fluorine can't telport if stuck in mucus
projectiles and mucus don't affect cloaked molecules anymore
collisions with big molecules refined
large nitrogen molecule speed cap
reworked basophile behaviors: they now digest smaller molecules
added option to deactivate shader
punkcake intro and link added
fixed a bug that let you restart vaccine with previous evolution
fixed a bug that made the game crash when large molecules got stuck in cells
| | |
| --- | --- |
| Status | Released |
| Platforms | Windows |
| Release date | Jul 10, 2021 |
| Rating | |
| Author | PUNKCAKE Délicieux 🥞 |
| Genre | Puzzle, Action |
| Made with | Aseprite |
| Tags | Arcade, chiptune, minesweeper, puzzle-shooter, Roguelite, science, Shoot 'Em Up, Twin Stick Shooter |
| Average session | About a half-hour |
| Languages | English |
| Inputs | Keyboard, Mouse, Xbox controller, Gamepad (any) |
| Links | Patreon, Twitter |
Purchase
In order to download this game you must purchase it at or above the minimum price of $6 USD. Your purchase comes with a Steam key. You will get access to the following files: