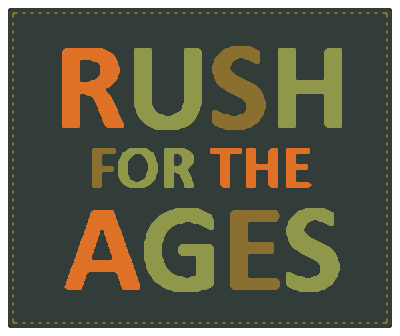 Rush for the Ages ⏳
A downloadable game for Windows
📜📜⏳📜📜
Remake history and race your opponents for a complete and glorious timeline in this lightning-fast card game.
Rush for the Ages is a quick card game about outplaying your two opponents while rushing through the ages to unlock new possibilities. Find the best synergies between the different cards and compete for the prestige tokens uncovered as the game advances. But as soon as any player sets down a 7th card in their timeline, the game ends and a winner is sanctified.
🌍 Minimalist card-based take on the 4X genre
📜 Remake history, build the most glorious timeline
🎲 Strategize with what you're dealt
🛕 Unlock and experiment with 21 civilizations
🌶️ 7 difficulties + 1 marathon/gauntlet mode
⏱ Unique and lightning-fast runs (2~10 minutes)
🎶 Immersive soundtrack by Pentadrangle
🏺🏺⏳🏺🏺
How to play:
This game requires a mouse to play and nothing else!
Most elements of the game have descriptive text popping up when you place your cursor over them. Game instructions are always written at the bottom of the screen, check there if you are unsure of what you're doing.
(If you are streaming or recording the game, make sure your cursor is visible in the recording!)
Objective:
The goal of the game is to have more glory (symbolized by stars) than your two opponents. You also have population which counts towards your total score.
Turns:
First, random cards are given to the players. Then players take turns to play. The order is random, so you may be first, second or third. When it's your turn, you may do one of the following actions:
Play a card from your hand and set it in your timeline.
Draw a new card from the deck into your hand.
Discard a card from your hand into the Ages Pool and draw two new cards.
Take a card from the Ages Pool and put it into your hand.
Play a card directly from the Ages Pool, at the cost of two population.
You can only do one of these things per turn. Once it's done you have to wait for your opponents to play their turn as well, until it's yours again.
Cards:
All cards have tags defining their types: Military, Health, Art, etc. These tags are represented as little colorful symbols at the bottom of the cards.
Most cards belong to an Age, with the exception of environment cards. The age is represented by the card's name's color: Antiquity cards' are yellow, Middle Ages cards' are orange, and Modern History cards' are green. Additionally, this is also represented by an icon in the upper-right corner of the card, respectively a broken column, a castle, or a gear.

Most cards have a description, which tells you how they affect the game when they are played.

Some cards have population, which is added to the player's population if they have enough free population space for them.

Some cards have "links", marked as pink chainlinks followed by the name of the linked cards. If two linked cards are played, each receives a bonus of two points.

Each card is unique and can only appear once per game.
The Ages:
At the start of the game you can only play Antiquity cards. The game advances to the Middle Ages once the Ages Pool contains 3 cards, and to Modern History once it contains 6 cards. You may still play Antiquity cards in the Middle Ages and in the Modern History, as well as Middle Ages cards in the Modern Age. However, if cards are taken from the Ages Pool, the game does go back through the ages and Modern Age and Middle Ages cards may be made unplayable again.
Prestige Tokens:
At the 1st, 4th and 7th cards placed in the Ages Pool, three prestige tokens are uncovered. Taking cards back from the Ages Pool does not affect uncovered tokens. Once uncovered, placing your cursor over a token will tell you what card tags are required to compete for it: the player who has the most of these specific tags in their cards gets 5 points, and the player who has the second-most gets 2 points.
In case of a tie between players, the players furthest in the play order are favored.
Note that it is usually a good idea to compete for these tokens.
End of the game:
Once a 7th card is set in any player's timeline, or a 9th card is discarded to the Ages Pool, the game ends and the player with the highest score wins.
May your civilization meet a glorious fate.
⛵⛵⏳⛵⛵
Discord
If you'd like you can come to our Discord to talk about the game and share strategies!
Of course it's also a very good place to get news of our next projects!
🧭🧭⏳🧭🧭
Are you press or a content creator?
Come ask us for a key on Twitter, our DMs are open! Just make sure to tell us which game(s) you're interested in, we have a few of different ones!
Also check out our presskit where you'll find more info about us, as well as graphical assets in the downloads, useful for showing off the game or making thumbnails!
We also have a french version of the presskit! 🥐
📷📷⏳📷📷
The game doesn't run!
If you're having trouble running the game please try the following things:
Extract the game to a different location, like a new folder on your Desktop, and try running it from there.
Add the game's executable to your antivirus' whitelist. Try launching the game now.
Still no luck? Please come get help on our Discord, or send us an email at trasevol.dog@gmail.com and attach the 'log.txt' file from the game's folder if it exists.
💾💾⏳💾💾
About PUNKCAKE
This game was made by PUNKCAKE Délicieux, a small team making and releasing a new game every month through Patreon and itch.io!
Check out our Patreon subscription for advantageous offers and some more options!
PUNKCAKE Délicieux is made up of lovely humans Benjamin Soulé, Rémy Devaux and Pentadrangle!
Find us on these platforms:
:: 👉 Patreon
:: 👉 Twitter
:: 👉 Discord
:: 👉 Itch.io
:: 👉 Steam
⭐⭐⏳⭐⭐
Changelog:
v1.2 Patch:
[BALANCE] +1 population for music
[BALANCE] Mysticism is now active until 3 religion tags are played
[BALANCE] It now takes 3 religions tags to make Mysticism ineffective
[BUGFIX] Disabling the starting card on civilization now works properly
[BUGFIX] Empty handed AI can't play cards with a discard cost from the Ages Pool
[ERGONOMY] You can now read card descriptions in pool when the game ends
[LITTERARY] More language corrections
v1.1 Patch:
[BALANCE] -2 glory for factory
[BALANCE] discard cost added to Computer
[BUGFIX] You can now play card from ages pool even if you have only 2 people left
[BUGFIX] Religion tag selection now work properly with Spectacles and Currency
[BUGFIX] Gauntlet win condition is now checked AFTER the last coins are collected
[BUGFIX] Game wont crash if you validate before menu animation end
[BUGFIX] No more pink civilization name.
[BUGFIX] empty handed IA is not allowed to play cards needing discard naymore
[ERGONOMY] Added an age icon on each card for accessibility to colorblind players
[ERGONOMY] "In your timeline" is added for all cards counting local tags
[ERGONOMY] "Instructions" button linked to Rush for the Ages webpage has been added
[LITTERARY] Fixed grammar errors, names and confusing wordings
Purchase
In order to download this game you must purchase it at or above the minimum price of $6 USD. You will get access to the following files:
Rush_for_the_Ages_windows.zip
22 MB
Try this if other version doesn't work
22 MB