The Turgenev Study 🧬
A downloadable game for Windows and Linux
☣️🧬🔬🧬☣️
Harvest DNA and assimilate new samples for your paramountly important research. Your laboratory is located in a warzone, resulting in limited access to energy sources. Your agent can only launch a harvest every 10 seconds. Do your best despite these harsh conditions.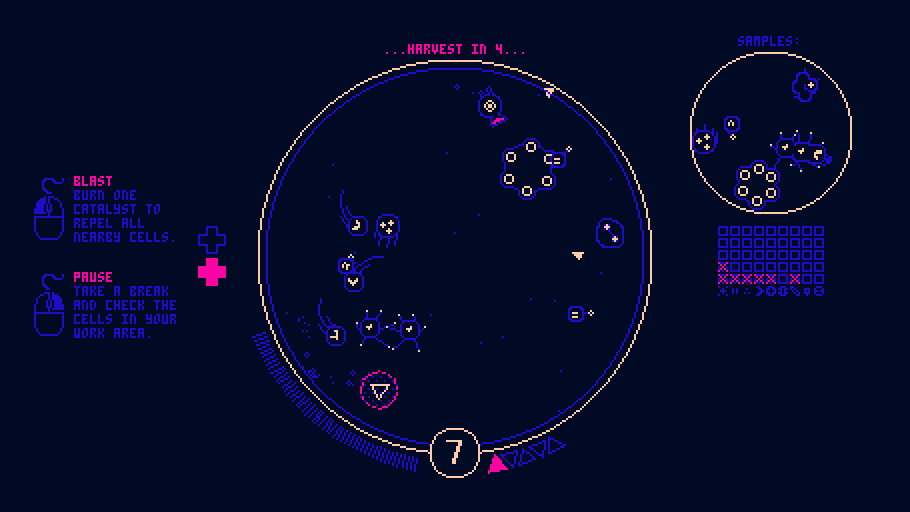 ☣️🧬🔬🧬☣️
GAMEPLAY
Harvest happens every 10 seconds. All cells in your harvest zone will be converted to fresh DNA.
Reach the DNA treshold to activate assimilation mode.
Assimilation lets you collide with any cell to add it to your samples.
Each cell has a specific effect on your agent. Right click and hover over cells to check these effects.
[Premium] Complete experiment objectives to unlock new cell types and sample space.
☣️🧬🔬🧬☣️
CONTROLS
left click: burn a catalyst to repel cells.
right click: pause the game. useful to analyse cell properties by hovering over them with the cursor.
☣️🧬🔬🧬☣️
DEMO
The demo for this game is the prototype that was made in 72 hours for Ludum Dare #51 by Benjamin Soulé and Pentadrangle.
The new premium version adds a progression system which unlocks cell types, including brand new ones, sample space, and new objectives! It has new and improved semi-generated music to accompany you in your reasearch! And it also features 4 new palettes to choose from and a fancy shader effect that can be toggled on in the options!
☣️🧬🔬🧬☣️
DISCORD
If you'd like you can come to our Discord to talk about the game and share your scores and chat with other players!
Of course it's also a very good place to get news of our next projects!
☣️🧬🔬🧬☣️
PRESS
If you're a streamer, youtuber, or press and you'd like to cover the game, we've uploaded a few assets you might find useful, including screenshots and thumbnail material! Find them here!
☣️🧬🔬🧬☣️
ERROR: game doesn't run
If you're having trouble running the game please try the following things:
Extract the game to a different location, like a new folder on your Desktop, and try running it from there.
Add the game's executable to your antivirus' whitelist. Try launching the game now.
Still no luck? Please come get help on our Discord, or send us an email at trasevol.dog@gmail.com and attach the 'log.txt' file from the game's folder if it exists.
☣️🧬🔬🧬☣️
PUNKCAKE
This game was made by PUNKCAKE Délicieux, a small team making and releasing a new game every month through Patreon and itch.io!
Check out our Patreon subscription for advantageous offers and some more options!
PUNKCAKE Délicieux is made up of lovely humans Benjamin Soulé, Rémy Devaux and Pentadrangle!
Find us on these platforms:
:: 👉 Patreon
:: 👉 Twitter
:: 👉 Discord
:: 👉 Itch.io
:: 👉 Steam
☣️🧬🔬🧬☣️
Changelog
Patch 1.0b:
Fixed a bug that could let enemy info pop-ups stay frozen there forever
Fixed a lategame crash that happened when grabbing a catalyst and you already had a lot
Fixed a crash that could happen when exiting a menu
Fixed a crash when writing your name on the wall of fame and trying to remove a unicode character
Purchase
In order to download this game you must purchase it at or above the minimum price of $6 USD. Your purchase comes with a Steam key. You will get access to the following files:
The Turgenev Study - Windows
21 MB
The Turgenev Study - Linux
17 MB
Download demo